Join us May 15, 2017 when author Michael Duffy will visit Chenoa to discuss his book From Chicago to Vietnam: A Memoir of War. He will speak at the Chenoa VFW Post 8350 on Monday, May 15 at 7:00 pm. It is located at 215 Green Street. Everyone is welcome. The event is sponsored by Chenoa Library and the great people at our VFW.
This is a free event. Michael will bring copies of his book for those interested in purchasing one. I've started reading his book. It is easy to read and hard to put down.
From Inkwater Press- "Both gritty and intimate, From Chicago to Vietnam tells the powerful story of the ensuing epic battle, the Tet Offensive, from the perspective of one brave American soldier, Michael Duffy, whose life, like so many others, would forever be changed.
Duffy's war experience begins when he exits a C-130 cargo plane onto the Tan Son Nhut tarmac—a chaotic scene of blasts, explosions, and small arms fire. Sprinting to a waiting helicopter, he is lifted up and over the city, where he gets a bird's-eye view of Saigon under attack. The helicopter lands on a road outside Bien Hoa Base Camp, and Duffy crawls in under enemy fire, tumbling into a fox-hole under cover of two GIs. Later, he meets up with his younger brother, Danny Duffy, in an ammunition convoy driving up Highway 1 to the village of Xuan Loc."
Tuesday, August 15th, the library will be hosting a Solar Eclipse Program at Prairie Central Primary West (formerly Chenoa Elementary School).  The event is at 7:00 pm starting inside the grade school gym.  All are welcome. The program will be lead by an Ambassador to NASA from the Bloomington area. After the program, solar eclipse glasses will be handed out for viewing the solar eclipse safely on August 21st. Following the program there are plans to view planets and other space features from a telescope out on the football field.

For more information on the solar eclipse, in the meantime, visit: http://www.starnetlibraries.org/
Chenoa Public Library is nearing its goal !!   Due to our community's tremendous support, we currently have over $500,000 that can be directed to a new facility that has an expected cost of approximately $800,000. We are beginning a pledge drive to complete our mission of providing an accessible library to the citizens of Chenoa.

Your financial promise to the Chenoa Public Library Building Fund is tremendously appreciated. *Contributions are tax deductible.

"Alone we can do so little; together we can do so much." ~ Helen Keller
Now through July 16th, orders made through this link will support the library by giving back 20% of the purchase to the library, and then 5% from July 17th- October 13th. 
and 40% of e-Gift Cards purchased through the link will be donated (1 per person, per campaign). 
Orders can also be made by phone at 888-SCHWANS; just remember to mention campaign #32241.
The best part is the order will be delivered to your door.
The all-new Preschool Story Hour will begin on Saturday, September 6 at 10:00 am at your Chenoa Library.  The Reading Therapy dogs will be in the library.  However, they will not be doing the reading.  Everyone is welcome.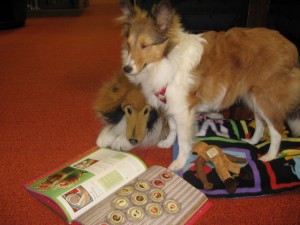 Imagine free e-books with illustrations for children – and free e-books for adults.  That's eRead Illinois.On Wednesday, September 17 from 5-7 pm at Chenoa Library, we will have an e-book event.  This is to introduce our new e-book resource called eRead Illinois.    We will show you how to select e-books and download them onto Nooks, laptops, IPADS and other ebook readers.  eRead Illinois is free to you and to the Library.  Bring you own eReader  or try one of ours.